Coffee, Lunch & Learn with Dr. Raphael W. Bostic
September 1, 2021 at 12:00 pm ET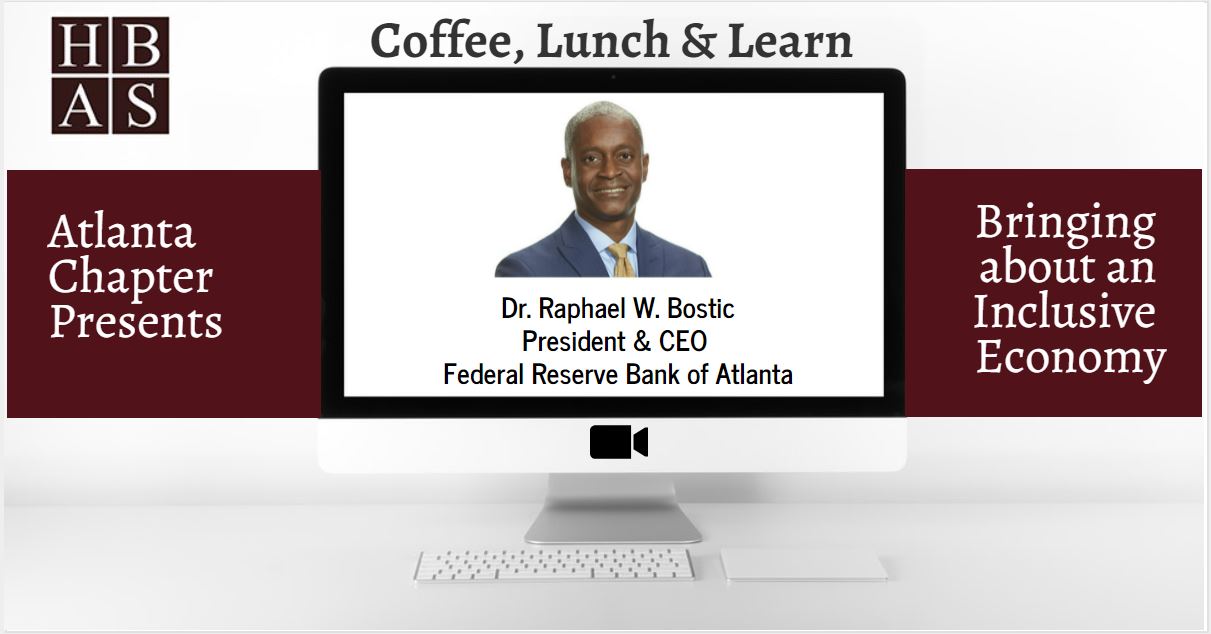 Dr. Bostic brings a unique perspective to the role of the Federal Reserve Bank. He believes that the Federal Reserve Bank of Atlanta, and the Federal Reserve more generally, can play an important role in helping to reduce racial inequities and bring about a more inclusive economy.
Dr. Raphael W. Bostic is the first Black and openly gay president and Chief Executive Officer of the Federal Reserve Bank of Atlanta. Bostic previously worked in the Obama Administration as the assistant secretary for policy development at HUD and is currently responsible for all the Atlanta Fed's activities, including monetary policy, bank supervision and regulation, and payment services. He also serves on the Federal Open Market Committee, the monetary policymaking body of the Federal Reserve System.
Dr. Bostic is currently on the Board of Overseers at Harvard where he graduated from Harvard College in 1987 with a combined major in economics and psychology. He earned his doctorate in economics from Stanford University in 1995. Join us for an intimate discussion with Dr. Bostic about what the Fed can do to help bring about an inclusive economy.
Seats are limited to the first 500 attendees. We hope to see you soon!

When:
12:00PM - 1:00PM Wed 1 Sep 2021 ( Timezone: Eastern )

Virtual Event Instructions:
RSVP Here...
Look Who's Coming:
Anadri Chisolm-Noel
jack smith
Law Office
George Yeadon
Bonita Allen
Pennsylvania Title I State Parent Advisory Council
Keeva Terrry
Harold Evans
University of Arkansas System
jacqueline sinclair-parker
Dorien Nunez
Melford Walker
Wells Fargo
Melford Walker
Wells Fargo
Charlotte Williams
Retired
Wambui Maina
HBS Club of Atlanta
VEDIKA SHARMA
Felicia Phillips
john Ellis
UPenn
Yuki Laurenti
Tom Reeder
NextForge, LLC
Brian Bradford
Oracle
Aaron Estis
Yumi Koh
J.P. Morgan
Nelson Chu
Kinetic Ventures
Stacye Baker
Aaliyah Shafiq Ely
Dr. Christian Koch
Dalton State College
Dr. Christian Koch
Dalton State College
Robert Robinson
Newmarket Capital
Brice Fodouop
James Chung
James Chung
Tom Fischgrund
Perimeter Search Group
Michael Adams
US Dept of Veterans Affairs
Peter Lauer
PEL Ventures
Ángela Vázquez
One eight
Tom Mallory
Acadia Associates
Matteo Segalla
Kevin Crump
Gynaika Santamaria
Kathy Yuh
Adrienne Lucas
Lance Lucas & Associates
Nilesh Patel
JPMC (formerly)
Nilesh Patel
JPMC (formerly)
Andre Stein
Cynthia Tucker
CT Consulting
Melanie Cook McCant
Veritas Management Group
jie li
Robert Joseph
Laurent Petit
Michael Auzenne
Inspire Brands
Brian Yi
Heather searles
Henry Singer
Errol Kendall
Intelligent Insurance Index
Adelbert Glen Kewley
A. Glen Kewley Design
Lucinda Flowers
Lucinda Flowers Consulting LLC
Theron Toler
Michael Robertson
Andrea Ivory
UPS
Philip Roane
Harvard Business School of Atlanta
Lauren Gore
Walter Chapman
Marcus & Millichap
Stacye Baker
James Harlan
Vendevco
Kayla Evans
Scott Johnston
Anthem
DH Patel
Karen Mracek
Federal Reserve Bank of Atlanta
Philip Webb
New Jersey Institute for Social Justice
Kwame Campbell
Markets Group
Omolara Gbodimowo
Shannan Wilson
Rooted Life
Mary L Powell Gentry
Gentry & Associates
John Moses
Gina Mills
Bruce Henry
Ivanhoe Smith
Coral Island Group
Douglas McHenry
Slang Digital/Soul of the South TV
Erica Urquhart
Alrich Lynch
LDG Consulting
Lee Jackson
Individual Investor
Seble Tareke-Williams
Marchtree Group
Howard Toder
Toder OIl
Sayiddah McCree
Perry Premdas
meagan speight
Rob Crawford
Sara Clarke
HBSAAA
Kwasi Agyeman
Richard America
Georgetown University School of Business -and -www.AMERICACO
James Collins
Myron White
American Income Life
Adrinda Kelly
Marcus Newman
Patrick Prout
ZRG Partners LLC
Dionne Clarke
Harvard University
Keith Butler
1964 Global
George Rivera
Digital Laundry
Gaspar Stinfil
Michael Persaud
Morgan Stanley Wealth Management
Leah Modigliani
Jackie Woodard
Santander
Erin Henry
Bridget Bray
Asia Society Texas
Benny Lorenzo
B.L. Capital Partners, L.P.
Alan Vaughan
Saybrook University
Bruce Henry
Denver Edwards
Bradford Edwards & Varlack LLP
Michael Persaud
Morgan Stanley Wealth Management
Selena Cuffe
SodexoMAGIC
Reid French
Essex Gate Ventures
JULIO FARACH
Alan Vaughan
Saybrook University
Lyn Brandt
OMNIResearch Grp
Courtney Knight
Capstone Municipal Advisors LLC
Jackie Woodard
Santander
DEMETRIOUSE RUSSELL
Venn Diagram Partners, LLC
Melford Walker
WELLS FARGO & CO
Wanda Felton
Spencer Stuart
Wanda Felton
Spencer Stuart
Bruce Henry
Marvin Turner
HUD
Wil Stevens
Plasma Solutions LLC
Luke Marklin
Bellhop
Obinna Onyeagoro
Egon Zehnder
GiannaRose Monteleone
Kenneth Tatum
HBSAAA
GiannaRose Monteleone
CARE Center
Christopher West
HarbourVest Partners
Alisher Ashurov
Abbey Road Capital
GiannaRose Monteleone
CARE Center
Iwan Streichenberger
FIORIMAR ADVISORS
Yosef Negussie
Stanford Graduate School of Business
kimberly Collins
Kevin Crump
Kevin Kastner
MT Newswires
sharon lee
Take Your Seat
Muzaffer Lakdawala
Paulette Curtis
Kevin Crump
Ali Palmer
Royal Technology & Agriculture LLC
Timothy Chatard
Meros Investment Management
Philippe Griffiths
Margaret Chin
Hunter College and the Graduate Center
Edward Shanklin
Brix Capital Advisors
Jarbe DURANT
Krishna Guha
Evercore ISI
Kevin Floyd
Holistic Building Solutions
Kevin Floyd
Tiffany Kent
Wealth Engagement.com
Seletha Butler
John Mathews
LA County Board of Supervisors
Stephanie Barnes
Stephanie Barnes
The Fruition Group, LLC
Dahlia Grace
Christine Collins
US Department of Labor
Diana Banks
American Bankers Association
Gina Lawrence
Amina Matlon
Imagining America
Paulette Myrie-Hodge
Whitney Boles
Howard Schneider
Reuters
Denita Willoughby
The Willoughby Group
marlana goodson
Willene A. Johnson
Keiichiro Otsuka
Kyodo News
Brenda Luke
IRS
Erica Long
Atlanta Public Schools
Cecelie Counts
Crystal Redd
Rod Mullice
Windsor Stevens
Mark Carlson
Baker Donelson
Duru Ahanotu
Ahan Analytics, LLC
Pete Clarke
Carl Owens
Zakiyyah Langford
David Rosenberg
Chris Hooper
Dawn Butler
Nkiruka Shelley Nweke
Breana Jones
Sodexo
Dana Ugwonali
MedTrans Go
Artise Hardy
Derek Mayweather
S A
Kristen Barnes
Shameika Vailes
Julia Demetrius
Julia Demetrius
Valerie Gong
HBS
CD Ralph
Shannon Buggs
Patrick Prout
ZRG Partners LLC
MELODIE TOBY
RIGHT AT HOME OF ESSEX COUNTY
Kayode Ogunro
Cartha OHare
James Smalhout
Robert A. Marchman
SEC
BRICKSON DIAMOND
Big Answers, LLc
Farah Spainhour
UPS
Joselle Lawrence
Epiphany
Cheryl La Monica
STATE STREET
LUTHER BREWSTER
Roseman College of Medicine
jack Smith
Law Office
Ed Rivera
DigitalWorks, LLC
Gabriel Esparza
Steve Matthews
Bloomberg
Louis Sterling
Steven Wilkinson
Wilkinson Wealth Mangement
Moanica Caston
Quanta Services, Inc.
Claude Organ
Darrell Powell
YMCA of Greater Seattle
June Watson-Benjamin
JuneWatsonBenjamin&Associates
Matheus Andrade
Agencia Estado
KIMBERLY WILLIAMS
Crystal Redd
Zakiyyah Langford
Karen Williams
Misty Skedgell
FRB Atlanta
Nancy Sato
self employed, evaluation
Carolyn Alsup
Mckenzie Parkins
Stephanie Barnes
Johanna Forman
Veverka Partners
Johanna Forman
Evan Ryser
MNI
Leah Modigliani
Lynn Harwell
LaShawn James
Howard Toder
Chris Cobham
Richard Coleman
Retired
Emma Martin
Jackson Spalding
Steve Liesman
CNBC
Ritika Shah
CNBC
Arielle Berger
Bloomberg
Ingrid Sarapuu
Debra A. James
Adela Cepeda
Independent Director
Faye Ellman
Adela Cepeda
Independent Director
Michael Derby
Wall Street Journal
Justin Ptak
Donna Sloan
Retired
Norman Finley
adrienne lance lucas
LLA
JEFFERSON DA ROCHA
Valdo's S.A
Michael Derby
Wall Street Journal
Denny Gulino
Mace News
Lisa Lee-Fogarty
Federal Reserve Bank of Atlanta
EDDIE EITCHES
Marvin Owens
Impact Shares
Steve Matthews
Misty Skedgell
FRB Atlanta
Brionna Jimerson
Instagram
Ismail Seler Pulurluoglu
Cedric Suzman
World Affairs Council
Ismail Seler Pulurluoglu
Ismail Seler Pulurluoglu
Ismail Seler Pulurluoglu
Cedric Suzman
WAC
Steve Liesman
CNBC
Polly Klyce Pennoyer
Leah Modigliani
Leah Modigliani
Leah Modigliani
... a total of 264 guests.
Note: to opt out from this list please sign in, go to My Account and change your preferences under My RSVPs.