Meet HBAS' Endorsed Overseer Candidates
HBAS is proud to join the Coalition for a Diverse Harvard to endorse 11 candidates for the Harvard Board of Overseers and HAA Elected Directors. These 11 candidates have the strongest histories of advocacy and accomplishments on diversity initiatives and are best positioned to help Harvard be a more diverse, inclusive, and just institution. We believe they will powerfully support Dean Claudine Gay as she assumes the Harvard presidency and also push the University to do better.
Tomorrow HBAS members will have an opportunity to speak directly with our endorsed candidates for the Harvard Board of Overseers.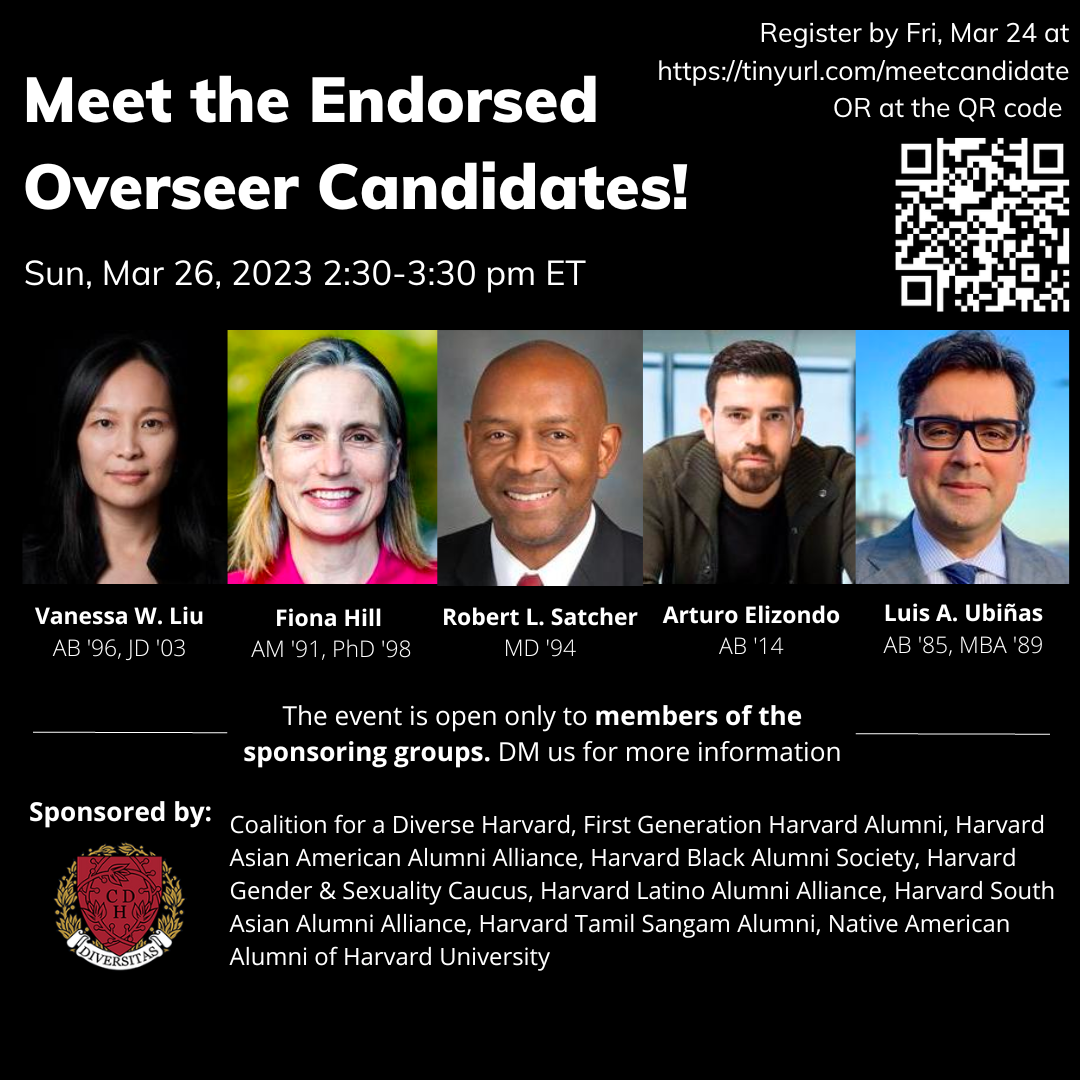 Vanessa W. Liu, A.B. '96, J.D. '03
A tech entrepreneur committed to creating opportunity for diverse leaders and a former HAA president who organized in support of affirmative action
As HAA president in 2021-22 and on its Executive Board before that, Liu kept DEI at the core of her work: rolling out allyship programming, participating in HAA's Anti-Racism Working Group, and galvanizing HAA and other leaders to speak out in support of affirmative action at events, in the media, and in Court filings.
Convinced that "diversity in the tech sector leads to better innovation", Liu guided SAP.iO North America's venture program dedicated to accelerating software start-ups led primarily by women and members of underrepresented groups. Now she is Co-Founder and CEO of Sugarwork, a tech startup helping companies hold onto an aging workforce through flexible arrangements and knowledge transfer, with a goal of tackling ageism head on.
A child of Chinese immigrants who was able to attend Harvard with financial aid, Liu advocates for:
further strengthening Harvard's financial aid program

increasing diversity among faculty, staff, and administrators

creating an Ethnic Studies department and including Ethnic Studies in Gen Ed

implementing the Harvard Legacy of Slavery recommendations and addressing shortfalls in Harvard's obligations under the 1650 charter to facilitate the education of "Indian youth of this country"

scrutinizing the finances of Harvard through a DEI lens.
Liu also believes Harvard must "engage, convene and work beyond our walls with individuals, businesses, governments, non-profits, and other higher education institutions to drive meaningful change in areas such as climate, public health, and economic inequality.".
Fiona Hill, A.M. '91, Ph.D. '98
An international relations expert, public servant, and academic leader whose "greatest passion is expanding access to education and promoting social mobility to help revitalize public faith in our democratic system"
Daughter of a former coal miner in northeast England, Hill overcame class barriers to become a first-generation college student, eventually receiving her doctorate from Harvard. Hill went on to serve three U.S. presidential administrations as an expert on Russia and Europe, capturing national attention when she testified as a key witness in the first Trump impeachment hearing. She is currently a senior fellow at the Brookings Institution.
In her bestselling memoir, There is Nothing for You Here: Finding Opportunity in the Twenty-First Century, Hill describes education as "the beating heart of the infrastructure of opportunity. "She has consistently advocated to increase educational access for all. Reframing education as a "massive societal benefit" rather than just an "individual benefit," she has critiqued the educational debt problem in both the U.K. and the U.S. As chancellor at Durham University since 2021, she opened up discussions about restructuring tuition costs. She also promised to "work tirelessly for racial justice" and address the longstanding issue of sexual harassment.
While Hill notes that she experienced discrimination and exclusion largely based on socio-economic status, she is "acutely conscious of the additional barriers that race imposes on educational attainment and socio-economic mobility." She advocates for increasing "access to high-quality education for students from underrepresented and disadvantaged groups" and providing the financial and material support they need to access the same kinds of opportunities Harvard gave her.
Robert L. Satcher Jr., M.D. '94
A physician, researcher, and astronaut dedicated to fostering access to education and health care for all
As an associate professor and physician at MD Anderson Cancer Center, Dr. Robert Satcher has led the institution-wide implementation of virtual care; worked with international partners to increase cancer care in sub-Saharan Africa; and co-founded the collaborative eHealth Research Institute, which seeks to expand health care access through technology. In addition, he completed two spacewalks during a 2009 mission to the International Space Station—the first time an orthopedic surgeon went into orbit.
Dr. Satcher told the Coalition that diversity, equity and inclusion "has been a driving principle and commitment … throughout my career." Dr. Satcher examined faculty diversity as an undergrad and graduate student at MIT; helped lay the groundwork for creation of an Office of Equity, Diversity and Inclusion as an MD-PhD student at Harvard Medical School; and promoted STEM education for underrepresented groups while at NASA.
Dr. Satcher identifies as key challenges for Harvard "preserving opportunities for higher education of underrepresented minorities in ways that are inclusive of the plurality of our society," insuring "ethical and robust solutions" to the challenges of new technology like AI, and providing leadership in the global debate over combating climate change. Dr. Satcher has "witnessed the adverse impacts that result from racism in healthcare and academia, and [is] committed to advancing the mission of fostering access to the transformative power of higher education for the benefit of all."
Arturo Elizondo, A.B. '14
A climate-focused food-tech entrepreneur who champions open discussion of mental health and a Harvard community where all can thrive
A child of Mexican immigrants who grew up in Texas, Arturo Elizondo arrived in the Yard unsure how he'd fit in. At Harvard, he lost a friend to suicide. These experiences forged two long-term goals: to always speak forthrightly about mental health challenges—including his own—and to help create a Harvard community where everyone can thrive.
As an undergrad, Elizondo worked with a local homeless shelter; tutored HU employees for their citizenship tests; and helped form the first university-wide Latino group. After internships at the White House and Supreme Court, he decided to become a food-tech innovator.
Elizondo founded The EVERY Company, which uses DNA sequencing and precision fermentation to create animal-free proteins for a wide variety of food products. A rare Latino CEO in Silicon Valley, he has raised over $230 million "to democratize access to sustainable, animal-free proteins with the aim of healing our planet, improving human health, and alleviating animal suffering." Named Person of the Year by the National Hispanic Institute, Elizondo was also on Newsweek's "America's 50 Greatest Disruptors" list and Forbes' "30 Under 30." A young, gay, Latino founder, he supports early-stage diverse founders on their quest to change the world.
As an overseer, Elizondo would be an "unapologetic" advocate for Ethnic Studies. He also proposes implicit-bias training for everyone involved in faculty hiring, and infrastructure to support faculty and students—especially "first-generation, BIPOC, trans students and faculty." Just nine years out of Harvard College, Elizondo will add a much-needed voice to the Overseers.
Luis A. Ubiñas, A.B. '85, M.B.A. '89
An accomplished non-profit leader who believes equity and inclusion require Harvard to "seed knowledge and leadership pipelines with diverse thought and people"
Chair of the Statue of Liberty-Ellis Island Foundation, Ubiñas is past president of the Ford Foundation, where he built a majority-female, majority-people of color, and LGBTQ+-inclusive leadership team. He started the Foundation's first LGBTQ rights program, with a $10 million annual budget.
Ubiñas has served at the UN Fund for International Partnerships, the Council on Foreign Relations, the International Trade Commission, and the Export-Import Bank. He led the West Coast media practice at McKinsey. As Pan American Development Foundation president, he expanded work in Puerto Rico, Mexico, and Central America to foster diversity in higher education. He has been honored by the National Council for La Raza, the NAACP, and the HBS Latino Alumni Association.
A passionate supporter of race-conscious admissions, Ubiñas explains that he embodies why affirmative action matters. To bring him to campus, "Harvard had to look past high school grades and test scores undoubtedly affected by homelessness and the chaos of poverty; cultural questions that must have arisen about someone from the South Bronx, whose mother was a seamstress and whose father suffered and died from alcohol abuse and drug addiction; and, the economic implications of admitting a student with no support possible from home." A first-generation student, Ubiñas graduated with a Truman Scholarship and later was an HBS Baker Scholar. "Countless future leaders across fields need the level playing field that affirmative action provides for candidates who do not benefit from privilege," he writes. He'll bring this perspective to issues from on-campus support and faculty hiring to Harvard's legacy of slavery and its1650 charter obligations to Native American students.